Urbiotica announced its new U-SPOT M2M parking sensor release during the past Intertraffic edition. As a result, the company today reports that more than 2.000 units of the new single space detection M2M sensor are prepared to be installed in 3 spanish cities by the end of the 1st quarter of 2020.
Making the most of the new 3GPP NB-IoT standard, U-Spot M2M communicates to the U-Admin platform directly through the mobile telecom network thanks to a SIM card integrated in the sensor. As there is no need to deploy any additional communication infrastructure, the cost of the solution has been drastically reduced for scattered spots applications and countries where the city lighting and electrical infrastructure cannot be used to support the deployment of dedicated IoT gateways.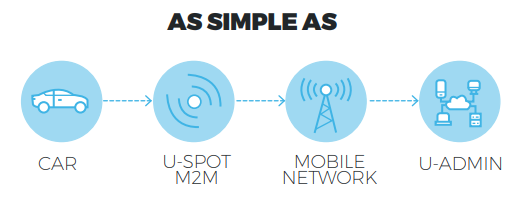 Thanks to a great improvement of energy harvesting performed on the new sensor, it is able to reach a 10-year useful lifetime under normal usage conditions and standard mobile network coverage quality. In addition, the U-Spot algorithm has been worked out to ensure a 98% detection reliability during the entire sensor lifetime, while minimizing the associated communication costs.
On the other hand, Urbiotica settled agreements with two main telecom operators to provide customers with a full end-2-end solution, including connectivity for a first pack of 7 European countries. The undergoing roaming agreements between operators for NB-IoT protocol shall soon expand the area of influence of the system.
The 1st massive deployment planned will take place in Utrera city (Sevilla, Spain), involving 700 U-Spot M2M sensors in the city center. The project, integrated by Telefonica, aims to ease the search of free parking spots in the area through a free mobile APP proposed to the citizens.
Castellón (Valencia, Spain) and Murcia (Spain) will also be equipped with the new sensor during the first quarter of 2020, to benefit of a complete technological solution to control the use of reserved parking spots for people with reduced mobility, loading and unloading as well as electric vehicle use.
Other links of interest: