The solution to monitor off-street parking designed by Urbiotica offers an efficient and highly reliable way to obtain availability in delimited facilities with clear entrances and exits.
The system calculates the available spaces based on the maximum capacity of the facility with respect to the vehicles entering and leaving the parking area. La solución de parking utiliza sensores magnéticos, que generan The parking solution uses magnetic sensors, which generate useful information to guide drivers through mobile apps and VMS in their key decision-making points towards these areas and alleviate traffic in city centers.
It offers many advantages compared to other solutions such as induction loops, historically used for the same purpose:
Simple installation:
o No wiring required
o Hardly any civil work needed
o Just one gateway required per facility, no matter the number of existing lanes
No maintenance:
o No need for calibration
o No risk of cable cutting
o Simple uninstallation and reinstallation when civil work is performed in the facility
o Extensive 10-year lifetime
Besides these benefits, Urbiotica has developed a set of additional functionalities that stand out from similar solutions:
– Driving way detection (with 2 sensors)
– Automatic and continuous calibration and system correction factor to maintain information reliability above 95% Mobile tool to set-up periodically the real parking occupancy
– Full compatibility to work in combination with U-Spot single space detection sensor for reserved space monitoring, among others.
– Full integration with guidance VMS and mobile app for off-the-shelf deployments
– System management and data analytics through U-Admin platform
U-Flow Parking is already used by public and private parking today in more than 10 countries. Therefore, it's helping drivers, employees and commercial area customers reduce the time looking for a parking space and thus the associated traffic, contamination and user frustration.
Harald Schmitt, CEO & Owner at MSR-Group GmbH, a major parking actor in Germany and Austria and one of the oldest users of the U-Flow Parking solution, testifies:
"We are deploying dozens of parking guidance systems every year. Off-street parking had always been a headache for us when we used to deploy induction loop systems because of the operational difficulties and the poor information generated. We have tried several innovation alternatives in the last years until Urbiotica's U-Flow Parking solution finally brought us a reliable, robust and complete solution to offer to our customers' useful information for their off-street parking areas."
Jordi Casasayas, Arquitecto técnico de l'Ajuntament de Martorell, atisfied user of the U-Flow Parking solution since 2016, testifies:
"We realized that we had to indicate the availability of parking spaces to the users of the new hospital parking area It is hidden beneath the building and barely had any visibility from the street. I studied the different market options and ended choosing U-Flow parking solution.
It was the only turnkey solution offering me the flexibility I needed:
– It allowed us to install the controller close to the power supply source available without extra wiring
– 3 VMS are installed in different city locations and connected by 3G
Our library's off-street parking and our barrier system are also connected to the platform informatically
– I manage everything from a single web page.
After an initial learning period, the free spot information is really reliable despite more than 5.000 vehicles use the 200 parking spaces every week."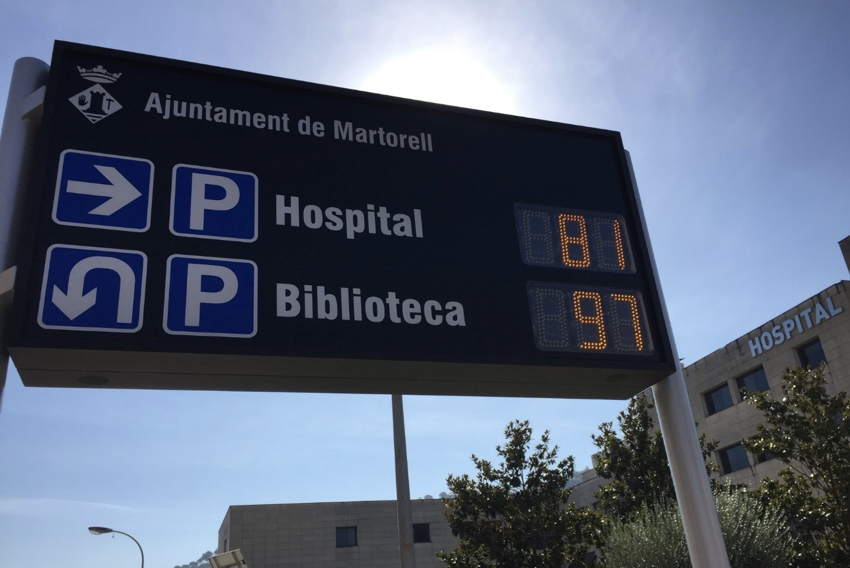 More information: