The concept of Smart Cities consists of equipping urban centres with Information and Communication Technologies (ICT). The purpose of their digitisation is to improve the quality of life of the inhabitants, increase public service efficiency and reduce the carbon footprint.
Specifically, smart cities integrate technologies such as sensors, devices, and communication networks which collect and analyse data in real time. Instantaneity is what allows informed decision-making for better management of transport infrastructure, energy use in cities, public safety, or health services.
All these advantages not only improve the daily life of their inhabitants, but also turn smart cities into quality tourist destinations. The benefits of technological tools and digitisation are not only based on environmental sustainability and improving public service quality; an important source of income is achieved by attracting tourists.
For this reason, in Urbiotica we will detail seven projects that have turned Spanish tourist destinations into smart cities, with the improvement of the local economy that this entails.
Projects that turn Spanish tourist destinations into smart cities
By developing and implementing solutions to digitise parking and improve mobility, these projects have improved parking services in ten Spanish cities. Although we will summarise seven, there are others implemented in Palamós and Palafrugell (Gerona) and Alcoy (Alicante)
The context is also the programme of 6 million euro in aid from the Ministry of Industry, Commerce and Tourism to promote the digitisation of the network of Smart Tourist Destinations.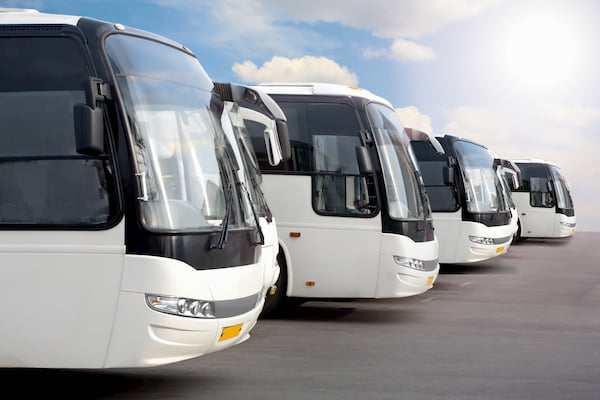 Tourist buses
Tourist Bus Parking Guidance Solution: Efficient, Reduces Congestion, Enhances Driver and Visitor Experience.
See more
1.- Barcelona
Among the cities that attract the most tourists in Spain is Barcelona, where 164 guidance sensors for tourist buses were installed at the Sagrada Familia. The advantage is that by transmitting data and information in real time, bus drivers can find where there is a free parking space both via the web and on information panels located at key points in Barcelona.
This technological development brings a series of advantages to the traffic flow in cities with such a large number of tourists as Barcelona. Among other examples, it avoids the circulatory chaos and congestion caused by stationary, double-parked or improperly parked buses.
The importance of these benefits is obvious for any city, but even more so in those tourist destinations where better circulation is necessary for the benefit of both residents and tourists. Even more so in streets close to such famous, iconic, and central monuments as the Sagrada Familia.
2.- Las Palmas de Gran Canaria
In Las Palmas de Gran Canaria, the project consisted of guided parking to organise traffic in the Pay-to-Park areas, with the aim of minimising traffic searching for parking spaces. Urban mobility was improved with flush-mounted autonomous sensors in the parking spaces to detect the real time entry and exit of vehicles.
More specifically, with the installation of 3,000 U-Spot sensors and 21 variable signalling panels, given the council's need to reduce traffic jams and pollution in the summer months, when tourism is at its peak and the variable population increases.
The success of this initiative led the council of Las Palmas to extend a second phase of the project with the installation of 3,000 new sensors. Its aim will be to improve user accessibility by reporting the available places and efficiently managing the places reserved for People with Reduced Mobility (PRM) and the loading and unloading areas, all in real time.
The extension of this first phase in the city will also reduce pollution and improve air quality for island citizens and tourists, especially in the summer, when tourism increases. The end result will be the largest outdoor parking space sensorisation project in Spain, with some 6,000 spaces included.
3.- Calpe (Alicante)
Calpe, a town on the Alicante coast, is a tourist destination converted into a smart city with parking guidance technology in the blue zone of Calle Alemania. This is one of the main parking streets that give access to Ifach west beach.
When the holiday months arrive and the influx of tourists increases, there are traffic jams with drivers looking for parking spaces. With the guided parking solution and the installation of U-Spot sensors, technology is put at the service of the sustainability of cities and the improvement of the life of their inhabitants.
4.- L'Escala (Gerona)
Another similar project is that of the town of L'Escala (Gerona), on the Costa Brava. Seasonality marks the life of this population year after year, with huge traffic jams with the arrival of thousands of tourists looking for parking spaces in the street or in car parks.
To provide a solution, its council chose the technology that turns a tourist destination into a smart city: a combination of U-Spot sensors for parking spaces plus counting at the entrances and exits of the five most important car parks in the centre, with variable signalling panels to guide drivers to free spaces.
5.- Calvià (Majorca)
Located in the south west of the island of Majorca, Calvià needed guided parking solutions to reduce traffic looking for parking spaces at the access to its beach and leisure areas.
The specific project carried out in this town was to equip these areas with wireless and autonomous U-Spot sensors in the parking spaces. This was completed with signs indicating free spaces at key points as well as an app that also indicates the availability of parking spaces reserved for people with reduced mobility (PRM).
6.- Ibiza
Ibiza is another city that demonstrates the power of technology to create projects that turn tourist destinations into smart cities. The avalanche of tourists arriving on this island in the hot months weighed heavily on the life of the islanders and also on their local commerce and image.
Thanks to urban guided parking using U-Spot sensors in the La Marian car park with real-time data, drivers are kept informed of free parking spaces, thus speeding up access to the town centre. With fewer traffic jams, traffic flows better, pollution is reduced and the health and quality of life of the island's more than 130,000 inhabitants are significantly improved.
7.- Santiago de Compostela
The seventh project we must talk about is the one that has turned Santiago de Compostela into a smart tourist destination. This was achieved through the implementation of U-Spot M2M sensors, which expedites parking to avoid unnecessary circulation in search of free parking spaces.
This technology, supported by the guidance app that users can download to their mobile phones, makes it possible to guide drivers directly to the parking spaces that are available in real time with data transmission through the mobile network.
Smart Parking solutions for tourist cities
What do these projects in Spanish tourist cities have in common? The need to solve traffic problems and find parking spaces and their environmental consequences. The objective has not only been to make the search for free places easier with sensors and advanced communication systems: the goal is to go much further and improve people's quality of life.
These projects that turn tourist destinations into smart cities are an example of how technological solutions help environmental sustainability, urban mobility and local and regional economic development. At Urbiotica we therefore specialise in developing Smart Parking solutions or smart car parks for Smart Cities.
¿Want to know more about Smart Cities?
Contact us and discover how we can help you.
Contact