The Minister of Industry, Commerce and Tourism has launched an aid program endowed with 6 million euros aimed at promoting the digitalization of destinations in the Network of Smart Touristic Destinations (SMD)
Tourist areas in Spain sometimes receive such a volume of visitors that it greatly complicates access to certain areas of the city and makes mobility and coexistence between citizens difficult. Cities such as Las Palmas, Ibiza, Santiago Calvià or l'Escala have turned to Urbiotica technology to solve their parking problems, thus improving mobility in certain areas, making them more efficient and at the same time more pleasant and attractive for tourists and their citizens.
How have they done it?
Urbiotica has a complete portfolio of solutions for digitizing parking and improving mobility. The solutions are based on different sensor systems that adapt to the idiosyncrasy of any project, which ones, added to the signaling through dynamic parking panels and/or apps, resolve congestions in the most visited areas of the city. It contributes to environmental sustainability, the citizens quality of life and to the exponential improvement of the tourists' experiences.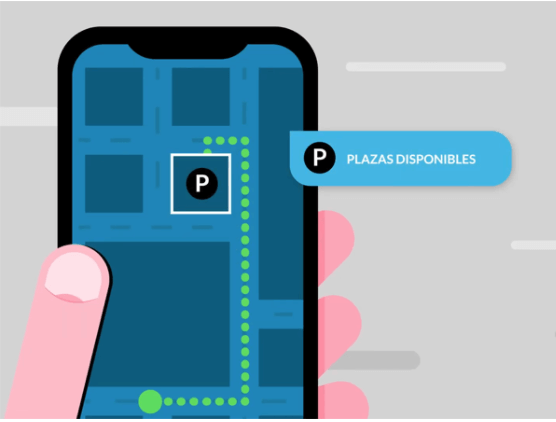 At the same time, the solutions allow an analytical study of the vehicles' behaviors in areas of interest, thus being able to make the pertinent decisions to improve parking and therefore mobility at touristic points.
En el caso del Ayuntamiento de Las Palmas, con la solución de Ubiotica buscaba reducir al mínimo el tráfico urbano causado por la búsqueda de una plaza de aparcamiento. Mediante el guiado de los vehículos directamente a las plazas libres, mejoró la accesibilidad a las zonas más colapsadas. Los conductores se dirigen directamente a las zonas con disponibilidad de aparcamiento, ya que son guiados a través de paneles informativos y de la APP LPAPark del Ayuntamiento. Esto repercute favorablemente en el tráfico de la ciudad, que ahora es mucho más fluido.
Por su lado, el municipio de Santiago de Compostela con 96.000 habitantes, recibe más de medio millón de turistas al año. Necesitaba solucionar las congestiones de tráfico en algunas zonas porque estaba perjudicando el bienestar de la población e incluso, impactaba negativamente en el comercio y la imagen que proyectaba a los turistas. Con la solución de guiado implantada en Santiago agilizamos el aparcamiento en determinadas zonas y se redujo el flujo de vehículos a las zonas donde no existe disponibilidad de plazas libres para aparcar. Ha mejorado la movilidad y en consecuencia la calidad de vida de sus habitantes y comerciantes, como también el atractivo y la experiencia para el turista.
¿Would you like to know how it works?
Thanks to the subsidies launched by the Ministry of Industry, Commerce and Tourism, tourist destinations now have an opportunity to digitize themselves and rely on ITC solutions to optimize destination management. Each destination can be endowed with aids of €500,000 each, and up to a total of €6M that makes up the total budget of the plan, which is injected into the municipalities to promote their digitization. Los ayuntamientos tienen un mes para solicitar las ayudas.
In addition to Las Palmas and Ibiza, other tourist towns such as Calvià, L'Escala, Palafrugell, Palamós, Alcoy, Ibiza or Burlington are already Smart Cities. Through Urbiotica's solutions today they are more efficient, attractive and pleasant tourist destinations for everyone.
If you are interested in receiving information on how we can help you improve mobility and parking control, contact Guille Terradas at 93.169.17.31 or by email at guillem.terradas@urbiotica.com.
Interesting links:
Comunicado oficial de la Red de Destinos Inteligentes
Soluciones inteligentes de Urbiotica
Smart Tourist Destinations with Urbiotica technology:
…
.¿Would you like to be kept up to date with our news, developments and projects? Subscribe to our Newsletter!.