Urbiotica's Outdoor Parking sensing system keeps its first place with regards to the outdoor Smart Parking technologies used in Germany, thanks to the new projects deployed there during 2018 by means of our partner and distributor in the area, MSR-Traffic. A dozen of new projects for both public (cities) and private customers (companies and supermarkets) were installed in 2018, summing up a total of 10.000 outdoor spaces monitored in the region (Germany, Austria, and Switzerland) since 2013.
Among them, cities like Erfurt, Dingolfing, and Pfaffenhofen have made a step forward to their Smart City goals through the acquisition of outdoor guidance systems based on U-Spot single space detections and U-Flow counting solutions. Today they deliver real-time parking information to drivers, which facilitate the search for free parking spots and thus improve the mobility experience and citizen satisfaction.
Urbiotica' solutions for outdoor vehicle detection are the ideal complement to MSR-Traffic core products, which include indoor detection sensors, guidance VMS and parking management software. The strengths of the integrated solution offered, covering all parking guidance needs, haven't been overcome yet.
Another good example of both technical and functional complementarity of the partnership is the project of Bad Zurzach, the famous Swiss thermal station where citizens, visitors, and public authorities were very unsatisfied because of the lack of parking information which was resulting in traffic congestions, loss of time, stress and forbidden parking in the area. The system implemented by MSR-Traffic composed of single space detection sensors and Variable Message Signs has greatly helped to improve the situation and now is giving full relief and well-being to the thermal site owner.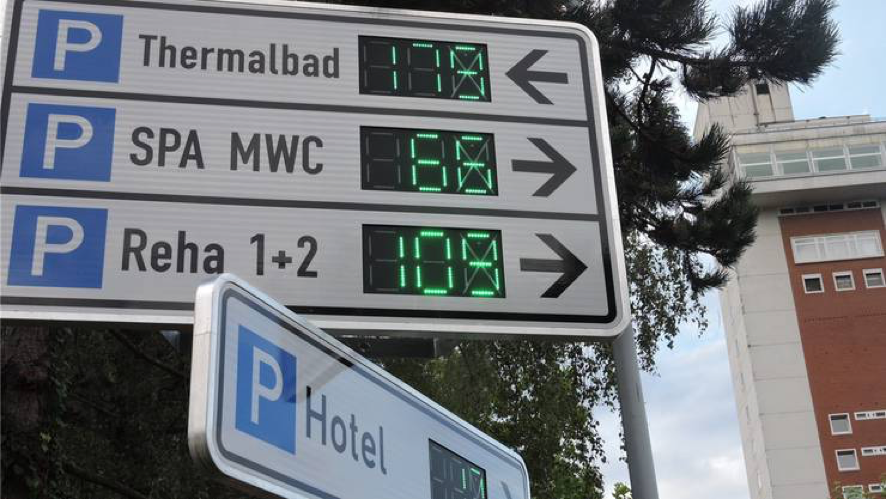 Photo credit: Aargauer Zeitung
Harald Schmitt, CEO of MSR-Traffic, looks back over the 5 years of the partnership: "MSR-Traffic and Urbiotica have been pioneers of their kind and have been growing together through the deployment of many projects over the last years, to reach an excellent level of offering today. The combination of single space and counting systems gives us many possibilities for outdoor parking spaces, and the flexibility offered by both hardware network and software architecture combined to our own products allows us to offer quality and competitive seamless solutions to our customers."
2019 is already shaping up to be excellent for the partnership thanks to the confirmation of several new customers, as well as extensions of existing projects. Keep posted!
More information:
Urbiotica Smart Parking Solutions